General Surgery Services - Gurnee, Chicago North Suburbs



We are very pleased that you have selected our office to provide for your surgical care. For over twenty-five years, we have been dedicated to serving patients and helping them achieve optimal health through careful evaluation and possible surgical treatment. We look forward to sharing our experience and commitment to excellence with you by providing you with the highest quality care, a gentle technique, and a caring and comfortable environment.


Caring for our patients is our top priority and we receive personal satisfaction by your happiness and confidence in us. We truly appreciate our patients and look forward to seeing each one of you!
We are sincerely honored when a patient has been sent to us by a friend or a family member. If someone close to you is in need of quality surgical care and would appreciate the caring environment we provide, we will be happy to welcome them into our office!



All patients are seen by appointment only. Please call in advance so that we may reserve a day and time specifically for you and your needs. If you cannot keep an appointment, kindly give 24 hours notice.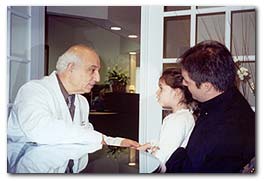 We perform a wide range of procedures, which can benefit both children and adults who have experienced any of the following signs or symptoms:
Abdominal Pain
Hemorrhoids
Swelling or Bulging in the Groin, Belly Button, Thyroid, etc…
Skin Lesions, Moles, Tumors, and Lumps & Bumps
Rectal Bleeding and/or Blood in the Stool
Change in Bowel Habits (Constipation or Diarrhea)
Unexplained Weight Loss
Breast Lumps, Abnormal Mammograms or Nipple Discharge
The patients we treat have either been referred to our office by another doctor or have come to us directly because they have experienced one or more of the above signs or symptoms. If you have any questions or concerns about your condition, the services we provide, or are in need of a second opinion, we invite you to contact our office to schedule an appointment for a consultation.